Commercial Clock Experts
Dedicated to designing and building custom clocks for architectural, commercial and public time applications, since 1984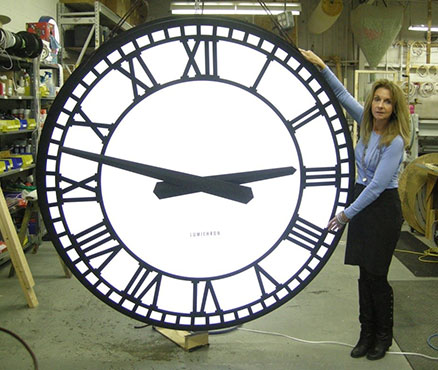 OUR TEAM
Lumichron Commercial Clocks is a group of folks dedicated to providing our customers with exceptional products. Lumichron engineers work with architects and designers to bring your ideas to life. Our makers excel at fabrication and finish. Our service technicians are friendly, licensed, and insured and offer free phone support. We have been building clocks in Grand Rapids, MI USA since 1984.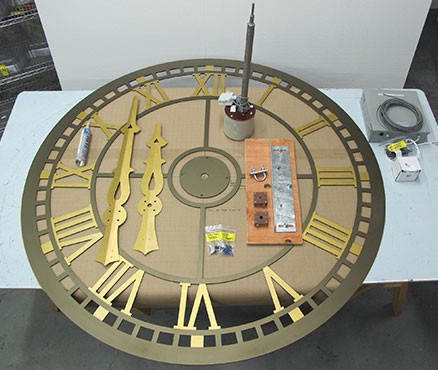 Lumichron manufactures premium, high-quality, made-to-order tower clocks and commercial clocks, and provides tower and post clock restoration, service, and repair. Lumichron is your US Distributor for Swiss MOBATIME clocks, time systems, and secure network timeservers. We also offer CAMPA chimes and Clock-O-Matic and Huchez components. For excellence and value, choose Lumichron.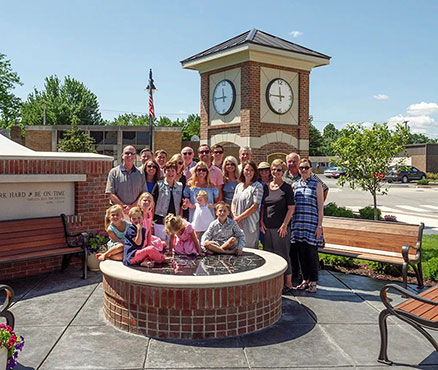 Lumichron designs and builds clocks for communities around the world; in fact, there are Lumichron clocks on every continent, even Antarctica! Lumichron clocks add value to schools and universities, city and town squares, retail and residential developments, healthcare facilities, airports, bus and train stations, country clubs, parks, and more. Let Lumichron make time for you.
---
Create a landmark with a LUMICHRON clock! LUMICHRON builds small interior clocks and big outdoor tower clocks with passion, care and personal attention, using the world's finest movements and control systems. We individually craft each clock for its project. LUMICHRON can also help you restore your existing clock and custom clock face, and we sell components if you would like to perform the restoration or repair yourself. The perfect place for a clock is . . . anywhere you would like a timeless accent for your project.
---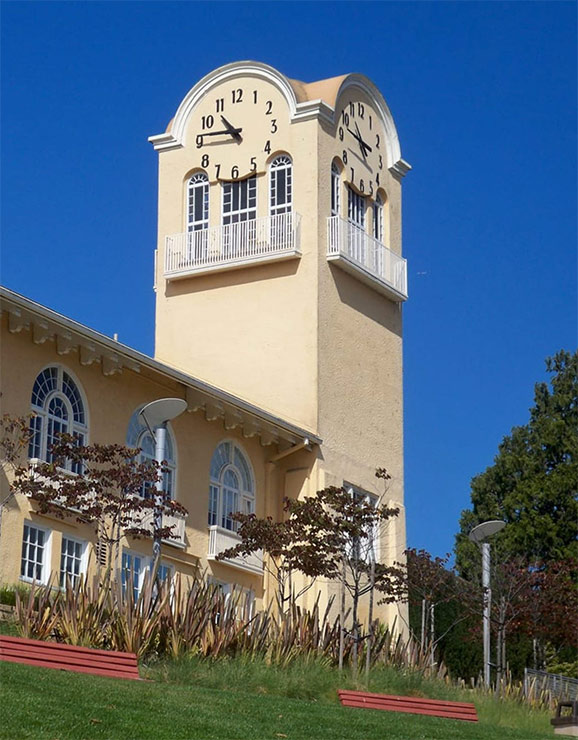 "I am very pleased; and, I have received many thank you's for this Tam Fix," wrote Bill Sefton, Vice President of the Tam Alumni Association. "Thank you Ian Macartney's Lumichron."
Lumichron installed three brand-new, state-of-the-art clocks for each of the three sides of the Tam High clock tower at Tamalpais High School in Marin County, CA. Because the memorial clocks had not consistently kept time for 67 years, Sefton convinced the Alumni President George Cagwin and fellow board members to fix Tam's clock tower once and for all.
LUMICHRON was contracted to install new, state-of-the-art, clock movements and hand sets for each of the three clock faces. The alums mounted a fund raising campaign, focusing on participation by alumni, community leaders, and Mill Valley residents. Tam's Class of 1947 first installed the set of three, 108-inch diameter (nine feet!) clocks as a Class Gift to memorialize the Tam students and alumni that lost their lives fighting in World War II.
Thank you Bill Sefton and the Tam High Alum for letting Lumichron be a part of your tradition!!
More info here https://tamgrads.org/clock-tower/.
Let us make TIME for you!
Get a Price in 24 Hours
REQUEST A QUOTE
For Service, Technical Information, or Clock Movements or Components, email us or call 888-788-4838
---
If you are thinking of adding a clock to your project or building, Lumichron has planning resources to help. Download our drawings and specifications; copy and paste into your plans. View different dial and hand selections with our configurator. Our clock catalogs and portfolio of images are grouped by clock type to show various applications. If you have questions or need more information, give us a call at 888-788-4838.
---
From setting and keeping the correct time to repair or restoration, LUMICHRON can help.
If you have a tower clock needing service, repair, or restoration, give us a call at 888-788-4838 or send an email to info@lumichron.com.